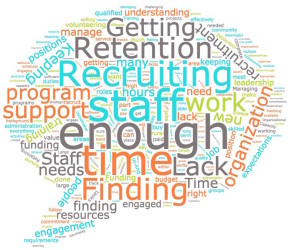 Announcing: VolunteerPro's First Ever
2016 Volunteer Management Progress Report
Curious about how your volunteer engagement practices compare with other professionals?
Wondering how you salary compares with your peers at similar organizations?
Wonder what the to challenges for the field of volunteerism?
We report answers to questions like these and more in our first ever Annual Volunteer Management Progress Report.
The report reflects the results of a volunteer management "state of the industry" survey. 944 volunteer management professionals completed the survey top to bottom. The resulting 39-page report paints a picture of their job structure, salary, satisfaction, and volunteer administration tactics.
To download the report, click here
About the Report
Volunteer management professionals were surveyed in order to paint a more complete picture of today's volunteer management professionals while taking into account their organizational characteristics, resources, locations, etc. The result is a "state of the industry" report with information related to volunteer management practices, challenges, and needs. This report will help not only professionals in the field of volunteer management, but also volunteer-led organizations, consultants, trainers, and others identify the greatest needs and help make informed decisions when it comes to volunteer management practices.
Who can I
CONTACT

for more info?

For more information about this project, contact Tobi Johnson at tobi@volpro.net or (206) 799-9038